Create macros for the LPEX editor


The LPEX editor used by VARPG and CODE is easily customizable with Rexx macros. I have added a menu called Custom that has options on it I want to use often, most having hot-key mnemonics.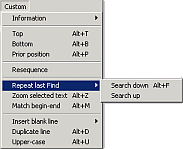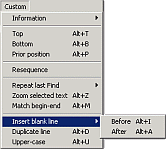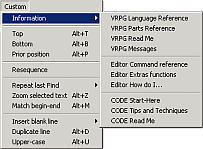 To use the menu macro, Custom.lxl, add the line 'macro custom.lxl' (include quotes) to the Profile.lx macro (to edit click on Options » Profiles » User preferences) so that it is loaded when you start the editor. The macros must be located somewhere on the LPATH (a registry setting*), which you can view by typing 'query lpath ' in the command dialogue (Actions » Issue edit command). I keep my own macros in 'C:\MyMacros', a different location from IBM's, so that they won't get clobbered by upgrades to VARPG. To add this folder to the LPATH, I typed 'extras on c:\mymacros' in the command dialogue.

* HKEY_LOCAL_MACHINE\SOFTWARE\IBM\ADTS Client Server for AS/400\Environment\CODELPATH4


Here are 3 of my macros.
Custom.lxl – menu macro
WinPos.lx – open editor window in preset size and location, cascade if second window
PrevPos.lx – return to previous position in source
Some of the options on my Custom menu call macros that come with VARPG, for instance, the option Match begin-end calls match.lx to identify a logic block. If you haven't discovered this IBM macro, you will be amazed how useful it is. Since the mnemonic Alt-m is set up when my menu is loaded, all I have to do is put the cursor on an IF or DO statement, press Alt-m, and the matching END (or ENDIF, ENDDO) will be located with the entire block highlighted. Conversely I can put the cursor on an END statement to locate the corresponding IF or DO.

Custom.lxl also sets up some other useful RPG actions. If I double-click on a line of code the entire line is highlighted, making cutting & pasting RPG code very easy. Since RPG is a columnized language, pressing Enter to create a new line can cause a problem by breaking up your code if you do this when the cursor is not at the end of a line. I have solved this by creating options to insert a blank line Before (Alt-i) or After (Alt-a) the current line.

And of course, I have also modeled on some SEU actions, Alt-b will go to the bottom of the source and Alt-t will go to the top, and Alt-d will duplicate the current line, making it unnecessary to copy & paste the current line to repeat the code. I have added a toolbar icon for Find next to repeat the most recent Find operation, so you can just click to repeat (like F16 in SEU). Look for it next to the little flashlight icon for Find.