Facebook – seems to be getting more of my photos these days...


Eric and his mother, Immy


Our 2016 holiday card

Patti and I remodeled and moved into another house in 2016; here are photos

Ben conducting a class at Twitter in San Francisco

Patti, Alex, and Laura in Brooklyn
Alex and Laura in Brooklyn

Patti's late brother, Ed

Alex and Laura (cropped from a photo with others in it)

Alex and Ben, spanning about 25 years

We had one of our worst winters for snow (also on Facebook)

Our 2014 holiday card

Patti in Jamaica

Ben in Jamaica after shaving

Ben and Patti in Jamaica

Ben in India

Alex and Laura

Eric - I had recent photos of everybody except me, so here is my selfie (that's Quincy Market in Boston)

Our 2013 holiday card

Patti, Eric, and our niece, Heather

Patti and I with Peter and Karen at Marina Bay, Quincy, MA

Patti at the Wee Kirk o' the Heather wedding chapel in Las Vegas, where my parents were married in 1942, now a historical landmark

Eric, Patti, and Alex with Grandma in Boise

Our 2012 holiday card

Eric's brother David passed away this year from Alzheimer's

Casey is our new puppy!

The whole family on Patti's birthday – Eric, Ben, Patti, Alex, Laura

Alex and Laura spent the 2012 summer in Europe! (Turkey photos, Crete photos, Greek islands photos)

Alex's cat Monstar (aka Baby) is staying with us this summer while Alex is in Europe

Our 2011 holiday card (GW campus, Washington, DC)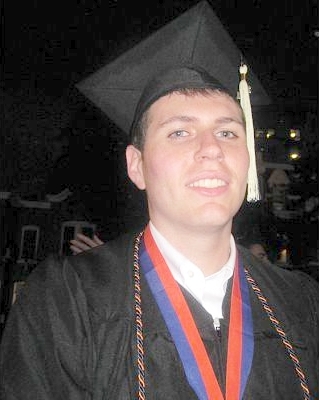 Ben's graduation from George Washington University

On GW campus in Washington, DC

Eric, Ben, & Patti's brother Arthur in Georgetown

Our 2010 holiday card (Paris)

Patti and Eric rode Segways in Boston (Patti made a photo album on Facebook)

We took a trip to Europe in 2010

Ben in Amsterdam

Mandy in the little cat-house she ignored for years

Alex's cat Monstar (we call her Baby) stayed with us part of the summer

Patti & cousin Morty

Patti at our nephew Eric's wedding

My brother David and his daughter Heather. David died of Alzheimer's in 2012 at age 66.

On the Palindrome date (01-02-2010) I slipped in the icy driveway and broke my arm

Our 2009 holiday card picture

Hayley in our driveway before plowing

Patti with college friends in Colorado

Patti with Eric's high school friend Skip in Idaho

Eric with mother at her retirement center in Boise

Ben in Barcelona

Alex, Patti, Ben, Eric at Gadsby's Tavern, Old Town Alexandria, VA

Patti at the Newseum, Washington, DC, part of a slideshow

Our 2008 holiday card picture


Posing with Red Auerbach at Quincy Market in the days after the Celtics won the 2008 NBA title

Eric & mother Immy in Boise

Ben

Hayley (we go for daily dog walks)

Eric & Patti at a wedding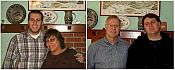 Our 2007 holiday card pictures

Immy and her three boys—Ed, Eric, and David (see us in 1955)

Alex, Ben, and Eric in back
Rosenfields (Ed, Arthur, Jonathan, Megan, & Jon) in front

Our 2006 holiday card picture

Alex

Ben, the thespian

Our 2005 holiday card picture

Patti & Eric in Old Saybrook
The boys and their cars.
| | | |
| --- | --- | --- |
| | Alex | Ben |

Pepper, our new kitten
Top of page

Our 2004 holiday card picture

My family of origin—David, Eric, Ed, & Mom (Immy)
Eric & Patti at a party with friends Jim & JoAnne.
Top of page

Atlantis Hotel, Bahamas – our 2003 holiday card picture

Alex

Ben

Alex in the Bahamas
Top of page

At sunset in Mallory Square, Key West – our 2002 holiday card picture

Hayley at 8 months

After several months apart, Hayley had a reunion with some of her siblings

Mandy grows up
Top of page

On the Cape – our 2001 holiday card picture

Alex from his Hingham High football team photo

Patti described this as my befuddled professor look
Top of page

Our 2000 holiday card picture

Ben dancing with Carli
At the Statue of Liberty, New York City (note the WTC Twin Towers)

Alex and Eric
Top of page

Our 1999 holiday card picture

Alex playing basketball in driveway

Bel and Hunter
Top of page

Hingham in the fall – our 1998 holiday card picture



One last long hair fling at age 50.

At a Bar Mitzvah in New York

Mysty, one of our 2 cats

Bel, our golden retriever

Ben (holding Mysty) and Grandma (holding Hunter)

Grandma Immy (my mother) on a glacier in Alaska
Top of page

Hingham Harbor with Bel

Top of page




Vacationing in Seattle – our 1995 holiday card picture

At our nephew's graduation party

Ben and Bel
Top of page

The family with Grandma (Immy) and Bel

Ben and Bel at World's End, Hingham
Ben with a couple of his architectural wonders


Wooden blocks

Paper cups

Ben and Bel
Top of page

Jessie, our Australian Shepherd, was with us from 1978 to 1993.

Top of page




Alex starts school in September

In Sedona, Arizona
Top of page

Dick Tracy and Phantom Of The Opera go trick-or-treating

In our yard

Ben
Top of page

The family

Alex

Ben enjoys some watermelon

Alex at Lion Country Safari, Florida

Brotherly love
Top of page

Alex is the third Pence generation to wear these chaps, 1989

In our living room, 1987

Alex plays with bubbles, 1987

Eric, Patti, and Alex, 1986

Eric and Patti, 1986

My brother, David, and his daughter, Heather, 1984

Eric, Patti, and Jessie, 1983

Patti and Jessie, 1980
Top of page


Our wedding, July 29, 1979.
We were married at an antique house in Waltham, MA, named The Vale (click for photos of the estate)
With our folks
Eric's family
Patti's family

Patti and Eric sailing, about 1978

Patti, 1978

Patti and her dog Ben, 1977

Me, 1976

Jan and L.A., 1975

My best friends Jan and L.A., 1974

With college friend L.A. in Boston, 1974

As a Berklee College of Music student, 1973

Me in Seattle, 1972

David, Eric, & Ed, about 1971

In parents' Idaho front yard with brother Ed, 1970

Playing my Martin guitar, 1970
Top of page

With my buddy Bill and brother Ed, 1969

With Seattle friends, 1969 (4 of us have reconnected on Facebook in 2010)

On the ferry from Seattle to Victoria, BC, 1969

With Seattle friends, 1968

Playing cards in college, 1966

High school graduation photo, 1966

As a Boys State delegate, 1965

14 years old and licensed to drive in Idaho, 1962

Using that greasy kid stuff at age 12, 1960

With neighbor Bobby as beatnik musicians, 1960
Top of page


My class pictures from grades 1-6 at Payette Eastside Elementary, 1954-1960
1st grade
Miss Hisa
2nd grade
Mrs. Hickerson
3rd grade
Mrs. Barrett
4th grade
Mrs. Hill
5th grade
Mrs. Betts
6th grade
Mrs. Williams

My family-of-origin visits Washington, DC, 1956 (Ed wasn't with us that day)

The Pence boys—Ed, Eric, David—about 1955
Top of page


Eric, 1949

David & Eric, 1949

Pences, 1949

Eric (at 1 month) with Mom, 1948

My parents in their San Francisco days, 1945





Immy and Jack (my parents) when they met in college, 1938

Top of page


Snapshots ( main Gallery page above

)


My cellphone photos


My cellphone is like a camera that I have with me at all times, and I am using Perl and Ajax to display these photos I have taken with it on webpages.

More photo pages on my website

Top of page


Remote photo pages


| | | |
| --- | --- | --- |
| Wynn White Photography | – | my friend Wynn provides some beautiful photography and some great digital imaging resources, and best of all for me, all the way from Japan he has helped me with some of my images on this website (see more from Wynn on my Friends page) |
| The Lyman Estate | – | the antique house Patti and I rented for our wedding in 1979 |